Bruce had mentioned that getting this footage hadn't been easy. "Complicating matters is that some of those we've approached have been, shall we say, difficult", Bruce related. For me, this was an opportunity to help Neil with an official project and I couldn't imagine why anyone would deny him. Then again, who's to say those contacted by Bruce were fans - for them it could have been a matter of greed.

Anyway, I was eager to help Bruce and Neil get the footage they were looking for. Off the top of my head, I knew the footage for the "Counterparts" tour solo was completely doable. Within the past year, newly found footage from their Auburn Hills, Michigan show on March 22, 1994 was put into underground circulation under the name "A View From The Palace". This new 2DVD version was a vast improvement over the other footage available from this show and was a 1st generation copy from the master.

I mailed this footage to Bruce who approved the quality and sent it off to New York for inclusion on the DVD. I noticed the Hudson Music website listed the incorrect date (March 27, 1994) for the "Counterparts" solo I supplied. When I notified Bruce of this error all he could tell me was "that info came directly from Neil." The reason I even bring this up is because Rush did play Auburn Hills on both March 22 and March 27, 1994. I know many fans were hoping to see footage from the 27th performance as there is no known video from this particular night. To set the record straight, the footage on the DVD is from their March 22 show.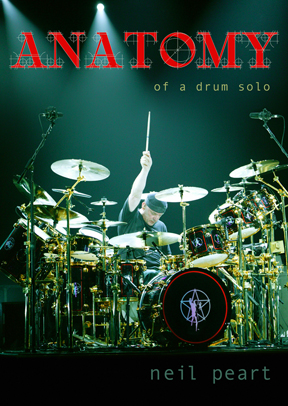 click to purchase
When it came to the Presto footage I had a gut feeling whatever I sent them wouldn't meet up to their quality standard. Bruce had indicated that Neil "really, really wants this thing." There is only one known proshot from the Presto tour in circulation and it's not very good quality. Even with the recent 2DVD upgrade, titled "Twisted Perception", you can tell the
source is at least 3-4 generations from the master with some "ghosting" and overall lack of clarity. For the bootleg fan, such as myself, it's definitely watchable (and enjoyable) to a certain extent. However, it just wasn't good enough for official release and Bruce wasn't able to use it. I've read in various places there is someone out there hoarding the masters and purposely releasing high generation copies for video traders. It would have been nice if someone could have cooperated in providing Neil with the Presto footage, but unfortunately, it wasn't in the cards.

One thing I learned from this experience is that Rush, obviously, have little to nothing in the video vaults from the "Presto" and "Counterparts" tours. Even footage from the 1997 "Test For Echo" tour, which the band filmed for an intended release, wound up being mostly unusable due to audio problems. Bootleg video may be the only document of live Rush through these periods.

Bruce sent me a complimentary copy of the 2DVD set and I am extremely grateful. I am also glad to have contributed in some small way to Neil's new DVD, which is amazing, by the way. I reviewed my copy within hours after receiving it in the mail and had it on as I worked from home. Neil is a true professional - talented, knowledgeable, not to mention humble. He is not just a great drummer, but a scholar of music, playing and performing. You don't have to be a drummer to appreciate this DVD, just a fan of music and it's history (and being a Rush fan wouldn't hurt).

Thank you Bruce and thank you Neil...we fans are always waiting, watching, learning and responding to each project, wherever it takes us.

Sincerely,
Ant
rushtrader.com